Cosmetic Dental Services in Burnaby
At Oakmount Dental in South Burnaby, our cosmetic dental services are designed to supplement restorative dental treatments and help patients achieve whiter, more symmetrical smiles.
What is Cosmetic Dental Care?
Cosmetic dental treatments are designed to improve the appearance of your smile. They can change the position, colour, shape, size, and alignment of the teeth, and they are often viewed as a 'finishing touch' to dental health treatments.
If you require a variety of restorative and cosmetic treatments, our dentists will develop a customized restoration plan to implement them together, saving you time with a more efficient treatment process.
Cosmetic Dentistry Services in Burnaby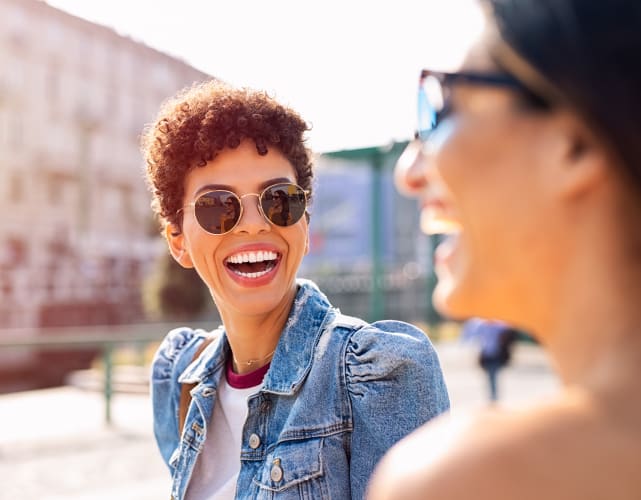 We offer professional teeth whitening right at home with our take-home option. At home or in-office, our dental team is here to help Burnaby patients work towards achieving brighter smiles. 

Request Appointment

What is Professional Teeth Whitening? As we age, our teeth can naturally darken as they become stained and disc...

Read more »

Using porcelain dental veneers, our South Burnaby dentists can alter the colour and shape of your teeth, helping to create a more uniform smile.

Request Appointment

What Are Dental Veneers? Veneers are thin, tooth-shaped pieces of porcelain that are custom-made for your teeth. Your dentist will bond the dental...

Read more »

Our South Burnaby dentists want you to love your smile. Dental bonding can be used to change the colour, shape or evenness of your teeth.

Request Appointment

What is Dental Bonding? As a cosmetic and restorative treatment to repair chipped or discoloured teeth, dental bonding is a process that fuses tooth-coloured...

Read more »
Now Accepting New Patients
Contact Oakmount Dental today to book your first appointment.
Request Appointment
Location
5266 Oakmount Crescent,
Burnaby,
BC
V5H 4S1
CA
Phone Number
Hours of Operation
Monday:

12:00 pm - 08:00 pm

Tuesday:

08:00 am - 05:00 pm

Wednesday:

12:00 pm - 08:00 pm

Thursday:

08:00 am - 05:00 pm

Friday:

08:00 am - 05:00 pm

Saturday:

Closed

Sunday:

Closed