With in-office or take-home treatment options, you can rely on our South Burnaby dental office to help improve the colour of your natural tooth enamel with our lightening services.
Request Appointment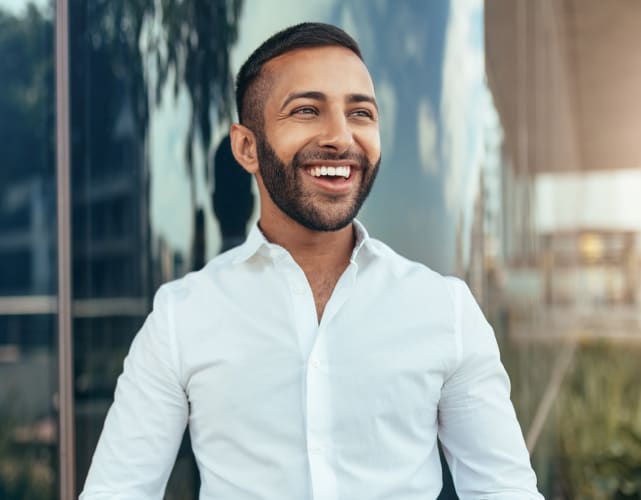 What is Teeth Whitening?
Our dentists use peroxide-based bleaching agents that react with discoloured molecules to create the desired whitening effect. We offer two whitening treatment options for your convenience, in-office and take-home.
In-Office Whitening
Professional bleaching treatments can be done at our dental office, typically within an hour. We use a custom tray to apply the whitening solution to your teeth in layers until the desired shade of white is achieved.
Take-Home Whitening
We also provide take-home whitening kits. These provide similar results over a longer period of time but allow you to lighten your teeth in the comfort of your own home.
Is teeth whitening right for me?
Certain factors can contribute to increased surface stains that darken the colour of teeth, such as smoking, consuming coffee and tea, and even ageing.
If you're unhappy with the colour of your teeth, talk to your dentist about which teeth whitening option is right for you. 
Now Accepting New Patients
Contact Oakmount Dental today to book your first appointment.
Request Appointment
Location
5266 Oakmount Crescent,
Burnaby,
BC
V5H 4S1
CA
Phone Number
Hours of Operation
Monday: 12:00 pm - 08:00 am
Tuesday: 08:00 am - 05:00 pm
Wednesday: 12:00 pm - 08:00 pm
Thursday: 08:00 am - 05:00 pm
Friday: 08:00 am - 05:00 pm
Saturday: Closed
Sunday: Closed