Professional dental cleanings and checkups are the foundation of good oral health. You can trust our South Burnaby dentists to provide you with the preventive dental treatment and guidance you need to keep your smile healthy. 
Request Appointment
Regular Oral Exams
Regular examinations at your dental office give your dentist the opportunity to identify any dental health issues, such as cavities or gum disease, and develop a treatment plan.
During your dental exam, your dentist will carefully inspect your teeth, gums and bite for any signs of problems. 
Exams may also include dental x-rays and other diagnostic procedures as needed.
Digital & Panoramic X-Rays
Digital x-rays use sensors instead of the traditional photographic x-ray film to produce extremely detailed computer images of the teeth, gums, and other oral structures. Panoramic digital x-rays create a single, flat representation of the entire mouth.
X-rays are helpful diagnostic tools that allow your dentist to see oral structures, diseases and abnormalities that are not visible to the naked eye.
Regular Cleanings
Before or after your exam, your dental hygienist will perform a professional deep cleaning of your teeth. Professional dental cleanings are important because they can remove tartar and plaque build-up that regular brushing and flossing cannot.
During your cleaning, your dental hygienist will remove tartar and plaque build-up from your teeth, and then floss and polish them to give you a clean smile.
Fluoride
Fluoride is a mineral in your bones and teeth. We provide fluoride treatment as needed for both children and adults to strengthen dental enamel and help prevent cavities.
Oral Cancer Screening
Your checkup may include an oral cancer screening. During the screening, your dentist will closely examine the face, neck, lips, tongue, throat, tissues and gums for any signs of oral cancer.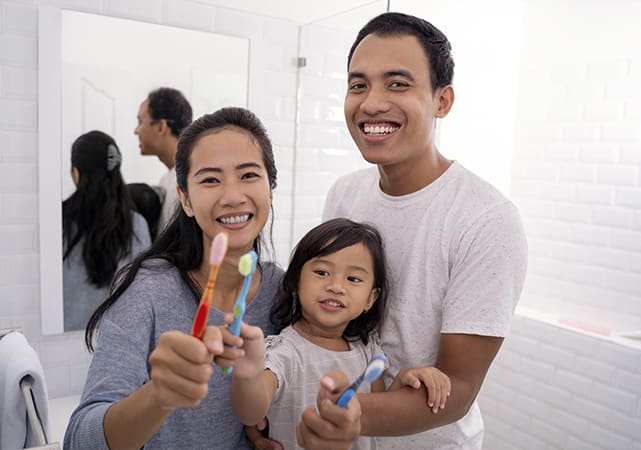 Preventive Care at Home
To maintain your oral hygiene between appointments, you should brush your teeth at least twice a day and floss once a day, ideally before going to bed at night. It is also important to rinse your mouth with water after brushing, and after each meal if you are unable to brush.
Your dentist or hygienist can give you tips on how to take good care of your teeth at home.
Now Accepting New Patients
Contact Oakmount Dental today to book your first appointment.
Request Appointment
Location
5266 Oakmount Crescent,
Burnaby,
BC
V5H 4S1
CA
Phone Number
Hours of Operation
Monday:

12:00 pm - 08:00 pm

Tuesday:

08:00 am - 05:00 pm

Wednesday:

12:00 pm - 08:00 pm

Thursday:

08:00 am - 05:00 pm

Friday:

08:00 am - 05:00 pm

Saturday:

Closed

Sunday:

Closed